Go Fish!
Finding Nemo taught us a lot about goldfish, especially that under the sea there's a possible world of emotions and turmoil brewing.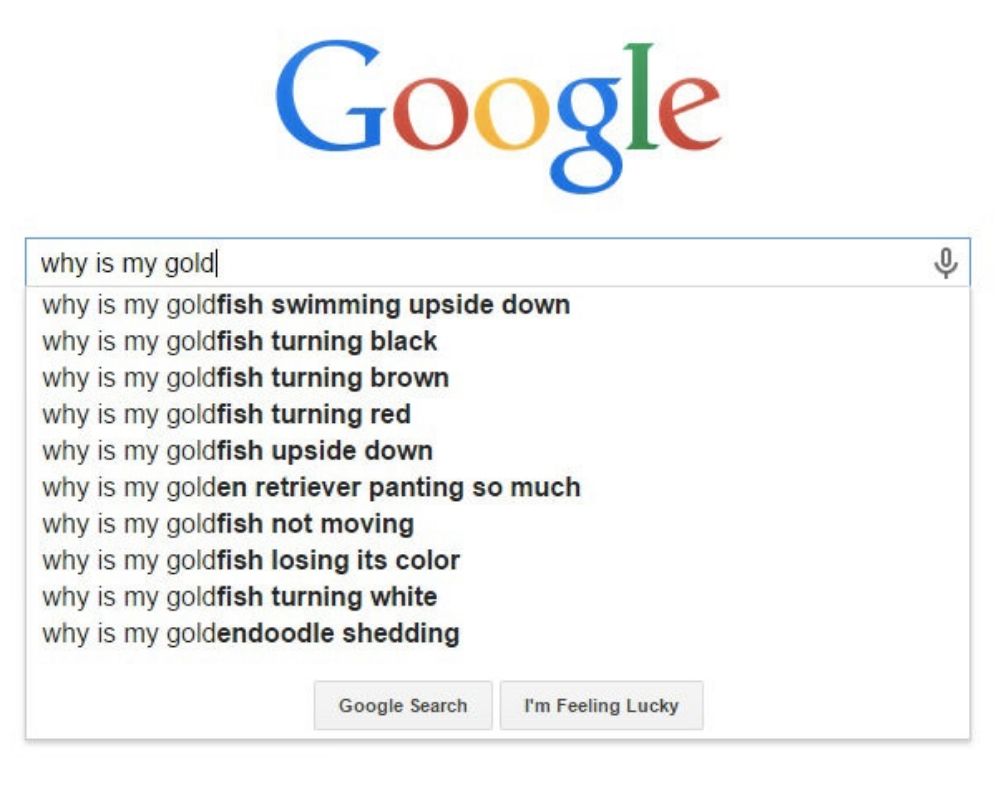 But, it definitely didn't answer queries like why a goldfish was black, white, brown, or even red. We hope that it was just a trick of the light, and the fish is still as golden as the day it was born.
Oh, Men
There are many things men have been associated with liking traditionally — sports, gym, sneakers, Las Vegas, even comic books. But, we're not sure who prompted this Google search.
Hopefully, Google was able to find a sensible answer for why the male population is enamored by feet. This problem might be cured, but we can't be sure that this foot lover's relationship survived his affection for the bottom of the human body.
Canadians, Eh?
People do have a hankering to own the most random things. For instance, this person here seems to be questioning why it isn't possible for someone to own a Canadian.
Canada is known for its politeness, maple syrup, and its love of hockey. Many people want to be more Canadian, but wanting to own one does sound a little disturbing. This person's Google search has a very dark future written all over it.
Jump, Jump!
Jumping is a joy in many kids' lives. Not just kids, but even adults enjoy jumping quite a lot. From trampolines to skipping, jumping is an integral part of life.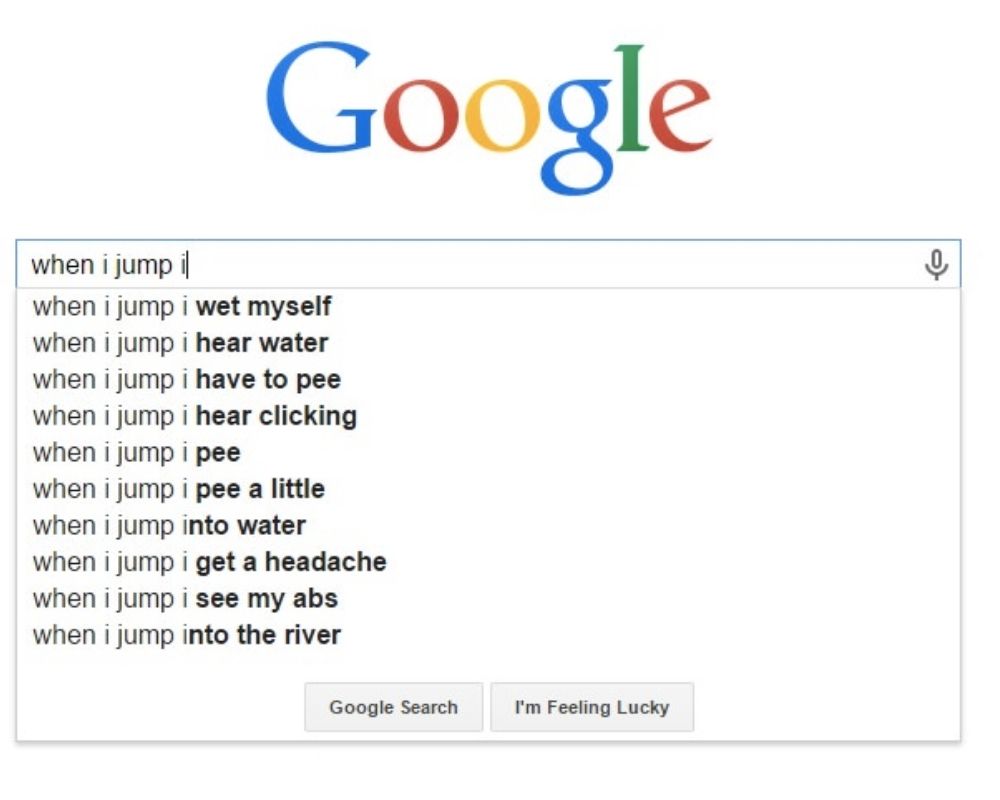 But, this dude wasn't so lucky in the bouncing arts. It seems that every time he jumped a little, he ended up wetting himself. For his sake, we hope that the person typing this is still a young boy. Otherwise, gymnastics would hardly be a fun class for him.
What's a Boyfriend?
Thanks to the internet, you can download almost anything. If you're looking for a recipe or a DIY project, the internet is your answer.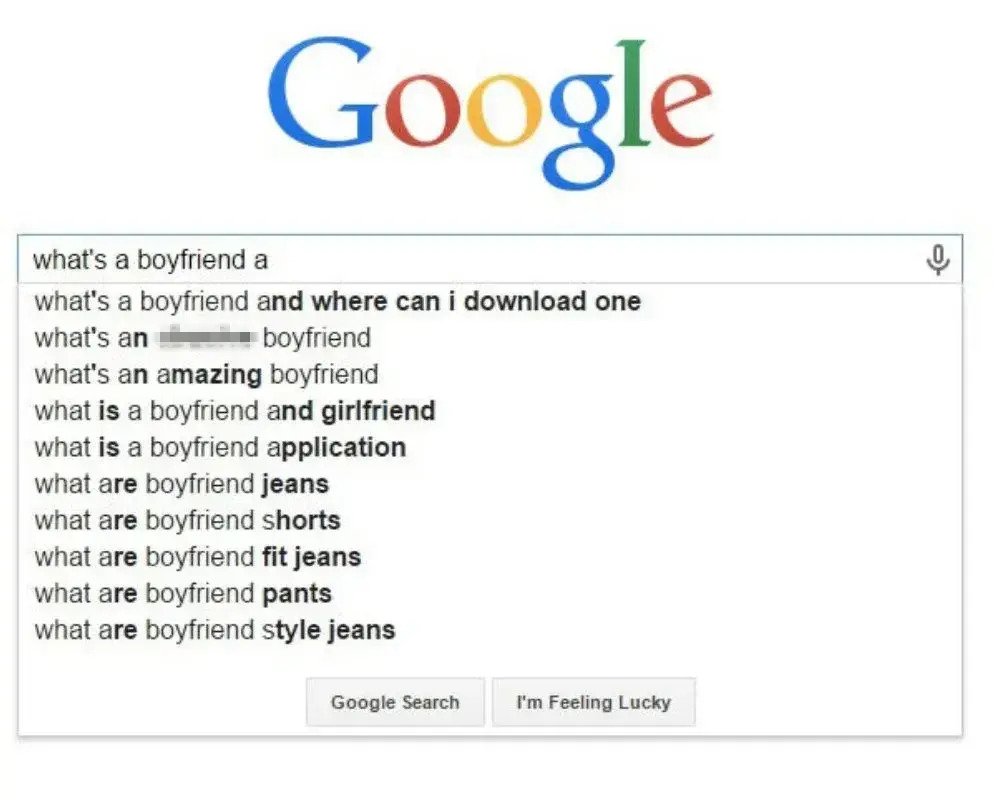 Sadly, we still haven't figured out how to download an entire human being. True, the internet can help you figure out how to be a good boyfriend or how to catch a boy, but it cannot give you one ready to download.
What Even Is Google?
The Google search engine adheres to no gender, but some people love the concept of genders so much that they want the answer to Google's gender, too!
Other suggestions, like if Google was a guy part two or four, imply that more than one person is interested in the answer. To those people, we say — the world is moving forward and your gender no longer defines you.
How Does Google Use Google?
This search is probably the most redundant and ironic one to have ever hit Google's search engine. We wonder what the user was doing when they asked Google this question.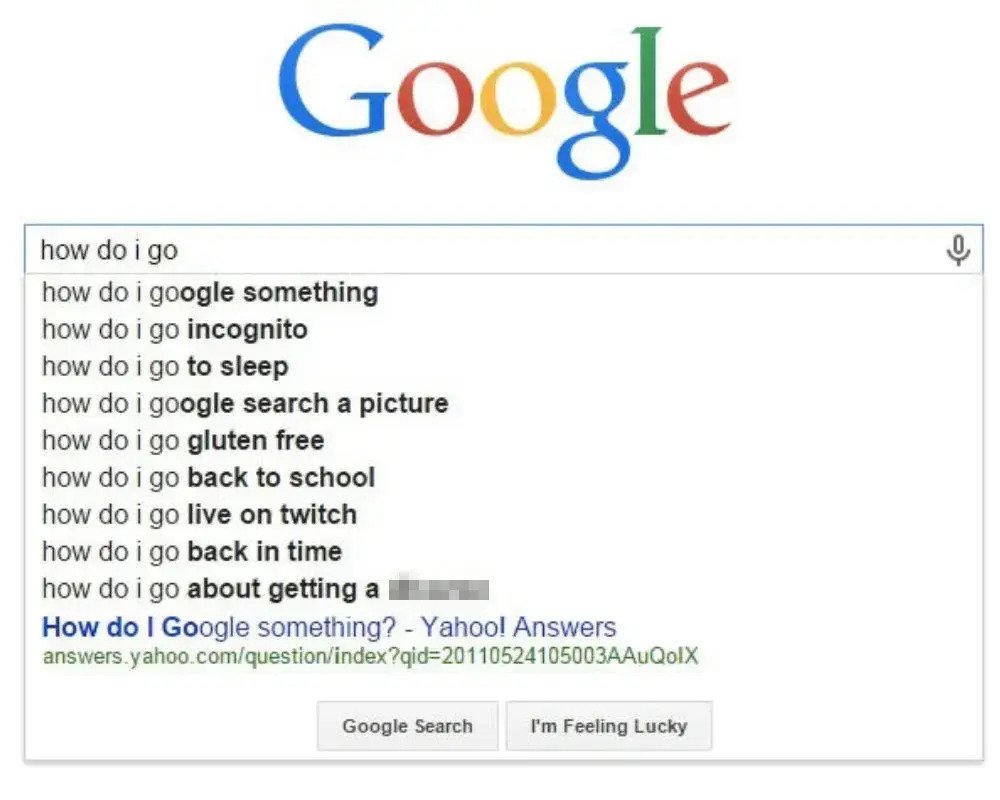 Knowing the reliable search engine probably provided the user with a step-by-step guide on how to use it to search for a query. The look on the user's face when they realized that they had already done the steps would've been priceless.
Were Dinosaurs Made Up?
You can probably thank the conspiracy theorists for adding this suggestion to Google's list of ridiculous suggestions. Not only does it say that they were invented, but it also goes even further to say that it was done to discourage time travel.
We just know what Ross Geller would say to this slight against his beloved dinosaurs. He would ask you to pivot your thoughts, and your line of query immediately.
Frosted Minerals
Well, to be fair, cupcakes might not be a mineral worth anything, but it's definitely a food that puts a smile on every face. The user probably had the right idea about questioning why the food that brings us happiness is not valued enough.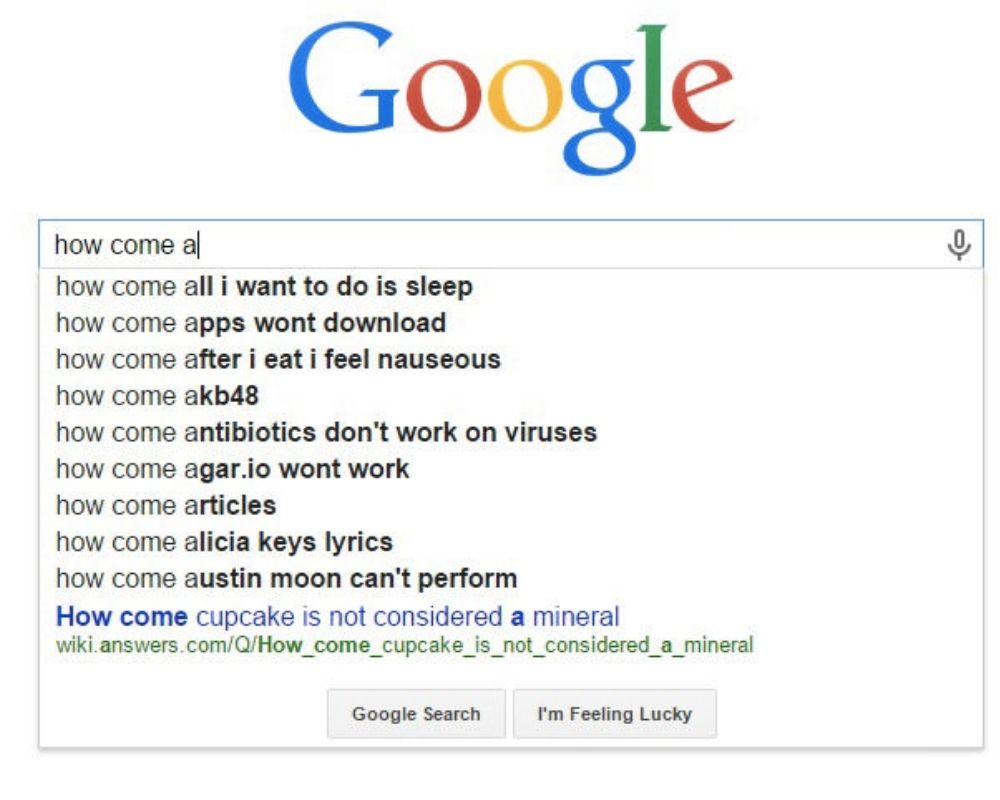 Sadly, everything is only good in moderation, especially sugar. However, the most relatable search here is the one asking why the user wants to sleep all day. To them, we say — "Same bro, same!"
Help! It's a Human Potato!
This is one of the tamer suggestions that pop up when you look up 'Help, I'm a P.' Some of the reasons might make you wonder if the user thinks they're a potato because they haven't left their sofas in a month or they're being cut down to little pieces, like fries.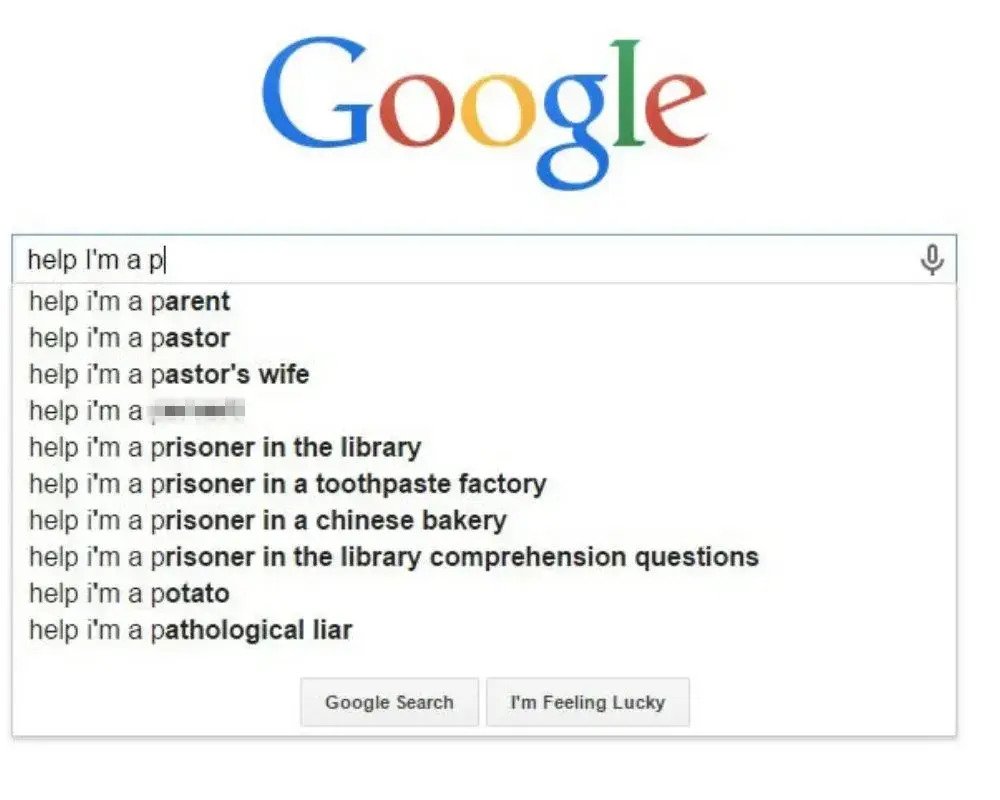 To the people who are asking for help because they're parents now, hang in there for 16 to 18 years until your child is an adult and you can finally relax again. Well, almost!
Proposing to Google
After the advertisement regarding the marriage of Siri and Alexa aired to promote the LGBTQ+ community, it seems that anything is possible. Even lonely people are asking Google, a search engine, to marry them!
Falling in love with an AI is a theme that is quite popular these days. It's even featured in the movie Her and the TV show The Big Bang Theory. Hopefully, the person who asked this question probably just felt lonely on Valentine's Day and is doing better now.
Google Will Enslave the World
If you're a person who's a fan of technology and its advancements, you've probably wondered whether there will be a day when computers will rise up and take over the world. This user wondered the same thing.
Google might not have enslaved the world, technically, but we're all dependent on it for everything — from school assignments to a guide on how to dress a wound. If conspiracy theorists are to be believed, we only have a little while before The Mitchells vs. the Machines becomes a reality.
Makes Perfect Sense
It's difficult to figure out why some people search for what they do on Google. The ending to this search could have gone many, many ways.
The user could have questioned hating a sentence when it does end positively, or anything similar, but the real question is how does a sentence end octopus? Does it have eight words in total?
When a Chinchilla Eats the Universe
Chinchillas are super adorable animals. They're tiny, cute, and low maintenance. In short, they're the perfect pet for a house. But, this search query points to somebody having a really bad experience with these animals.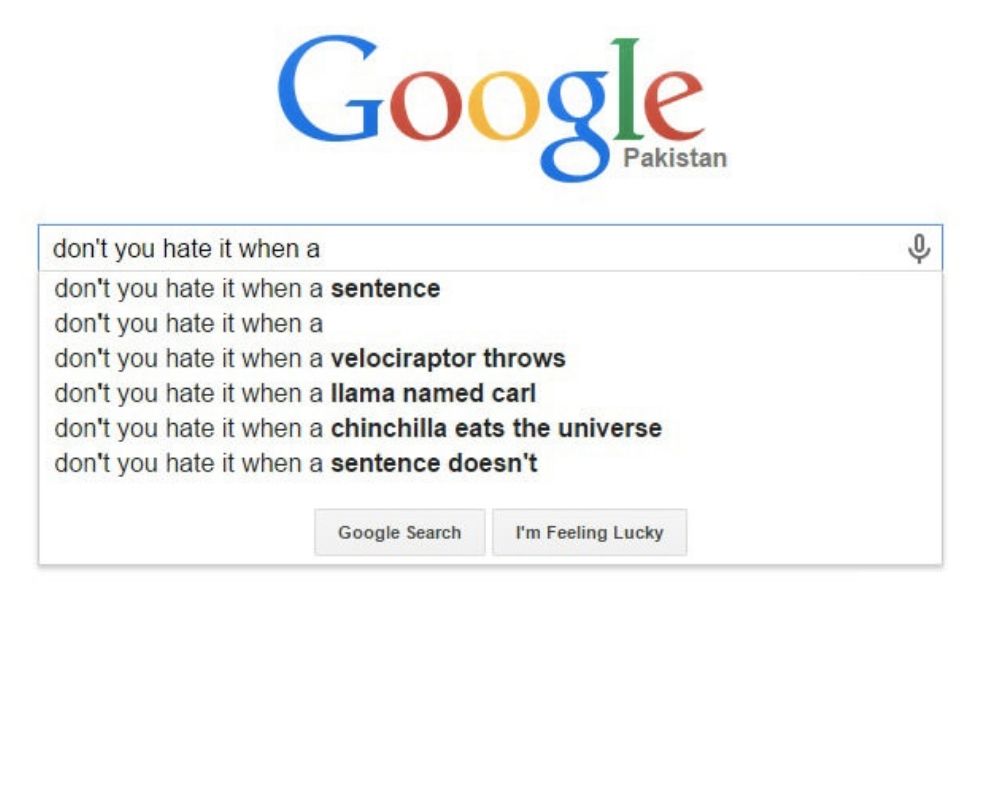 This person's pet chinchilla must have bitten off an entire globe, or probably a favorite item of the person who typed in these search words that led to such a query. But, to the person on the other end we say — yes, we do hate it when any animal eats the universe.
Is it Possible to Live Forever?
The answer to that question is a straightforward "no." Advancements in science and technology have increased life expectancy, but the word "forever" still isn't anywhere near the average human's lifespan, which is 72.6 years.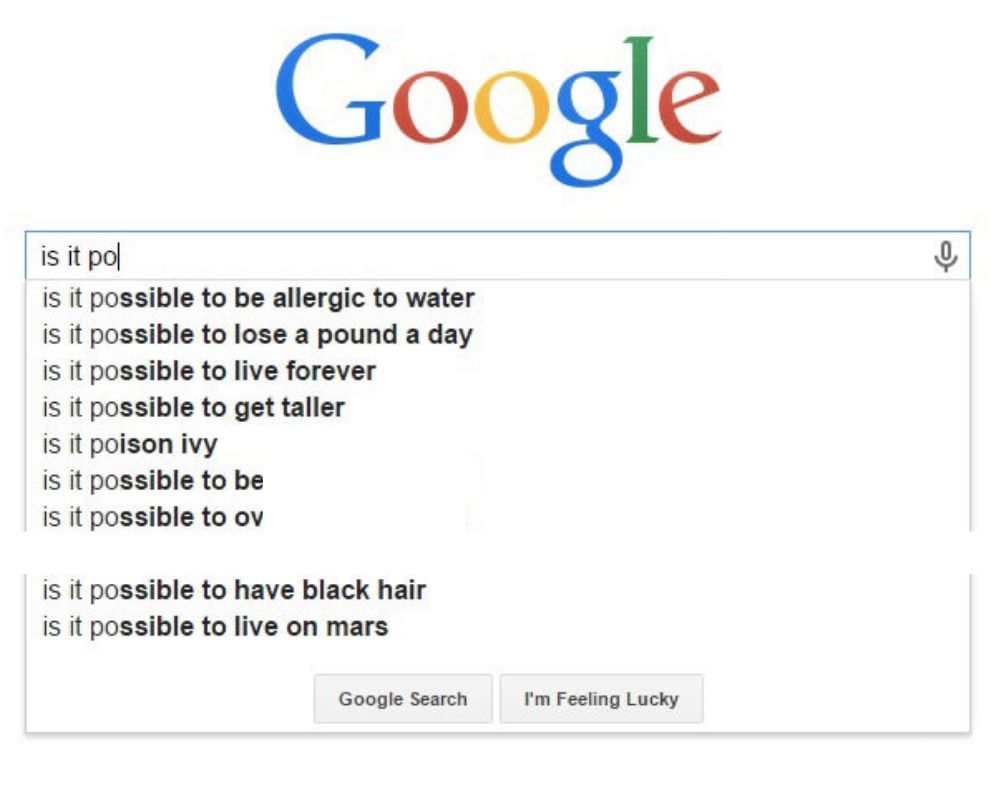 Thankfully, this person's query has a more spiritual and philosophical answer — yes, it's possible to live forever through one's art, ideas, writings, and innovations. After all, Alexander Graham Bell passed away 100 years ago and is still remembered everywhere around the world.
Girlfriend Is a Gumiho
The inspiration behind this Google search is probably the hit South Korean show My Roommate is a Gumiho. Gumihos are creatures in Korean folk tales.
These creatures often transform into beautiful women who set out to seduce boys in order to eat their hearts. The person who asked the question either binge-watched the show a little too much or his girlfriend is an extremely charming and beautiful lady who has cast a spell on him. Just kidding — it's probably the former.
Toasty
Google never fails to make a hilarious suggestion when you're typing something in the search box. Like this one, where it says to never put a sock in a toaster. Apart from that, one suggestion also states to never put a genie on a budget.
Where did the genie even come from? Were Aladdin or Abu using Google to clarify their doubts about how to clean a magic carpet? If we ever come across a magic lamp, we'll definitely keep this one in mind.
Pretending to Be a Carrot
Pretending to be somebody else can be liberating for some time. Even therapists often recommend joining theater groups as a way to learn to express yourself. But, some people just aren't satisfied with pretending to be a butcher or a gardener.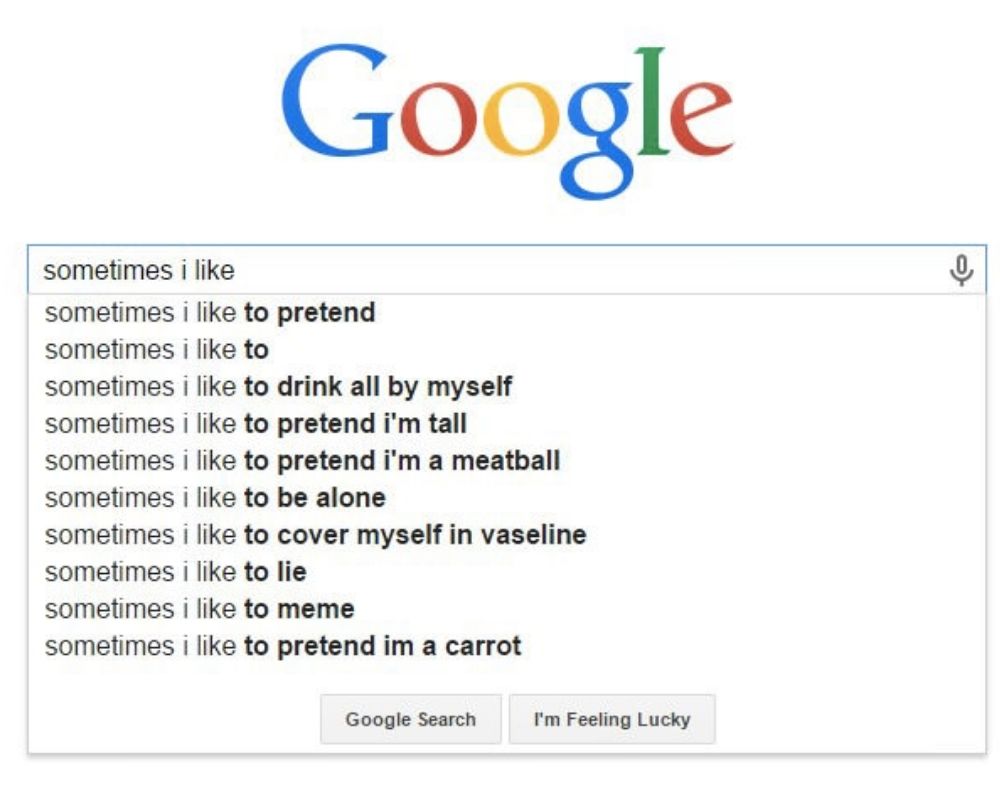 For them, only nonsensical things like pretending to be a carrot or a meatball, make the cut. It's worth pondering what a person pretending to be a carrot does. Go out in the sun and then try to peel themselves?
A Brain Tumor for Breakfast
We've all heard of people eating weird foods around the world, from crickets to pig intestines. Even breakfast differs from country to country — the English prefer eggs while the Japanese opt for a more traditional miso soup.
However, this particular user seems to have taken a cue right from Hannibal Lector. Eating a brain tumor never was, and never will be, an accepted practice in the human world.
Licking Elbows
The answer to this, sadly, is yes. Unless you're extremely flexible and can bend your body to your will, it's impossible to lick your elbow. But, we can't blame this person for asking.
After all, we've all been tempted to try something that we've been told we can't do. And elbow licking is something we've all tried to do and, sadly, failed spectacularly at.
How to Double in Size
These Google suggestions are a question and a possibility within themselves. One user has asked what would happen if he would eat himself, while the other had subtly asked if he did so, would he double in size?
Just to clarify, what would happen is you would disappear from the world. And if you want to double in size, maybe just eat a lot of carbs and move very little.
I Quit
This is an age-old question that everyone who works at an office asks themselves at least once — how do I quit my job? The answer to this is very straightforward, by putting down your papers.
Sadly, just knowing the answer doesn't work. You also need a lot of courage and a backup plan before taking this step. We're pretty sure Google also suggested similar steps to the person asking the question.
Life With No Google
If there was no Google, the world as we know it today would cease to exist. Without even realizing it, we ask the search engine questions about everything, from the color of our bowel movements to the requirements to apply to a university.
It's safe to assume that if it weren't for Google, the world would indeed be a very dark place, and all the DIY hacks would remain unknown to people.
Who Would Win the Fight?
Amidst all the same and acceptable suggestions of Batman versus Superman or Hulk versus Wolverine, is a suggestion of a fight between tacos and grilled cheese.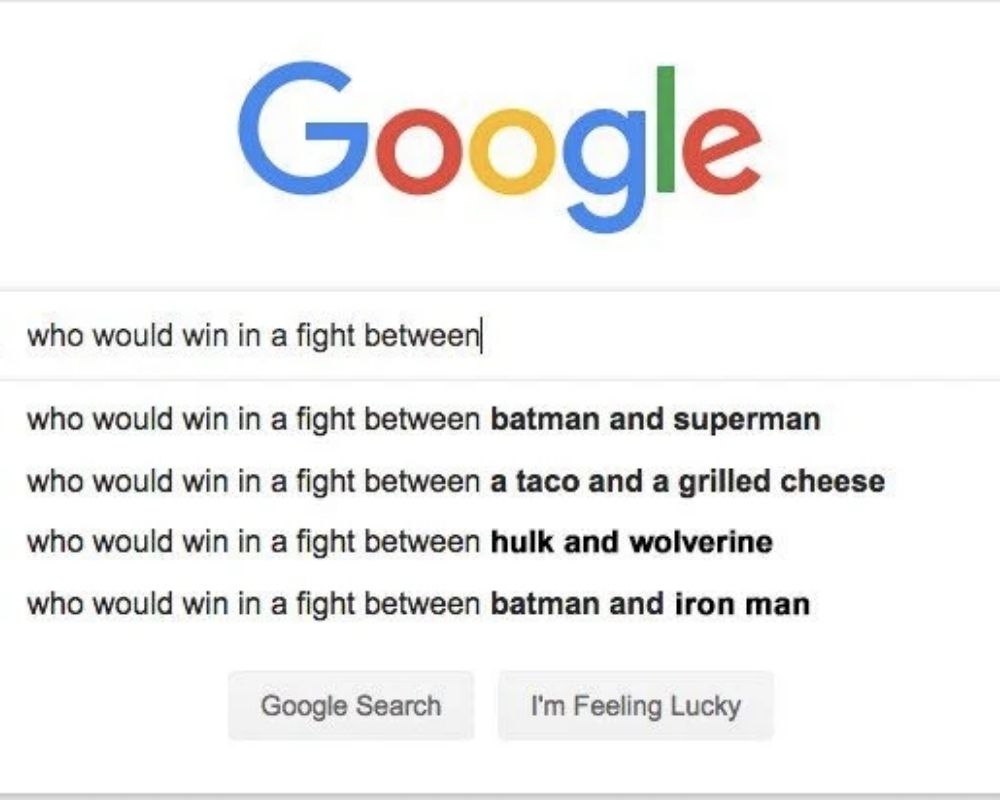 The taco has more filling, with its sauces and veggies, while the grilled cheese has the power of cheese backing it up. Taking into account the popularity and comfort, it's safe to say that grilled cheese would kick a taco's butt. Even though we're drooling just a little right now.
So Gassy
It's a question that your husband could probably answer better than Google itself. Maybe the issue is a chronic one or a gastric one, but a doctor would be a better option to turn to than the internet.
Regardless, we feel for the poor wife who has to sleep through her husband's incessant flatulence. Hopefully, a visit to the doctor will cure him of the problem and give him, and his wife, some relief.
She Is a Maniac
We can just assume that a frustrated boyfriend has input this suggestion into Google's search history, probably looking for ways to break up with a difficult girlfriend.
Or maybe a pet owner realized that their dog was out of control, and was trying to figure out all the reasons why she was acting that way. As Conan Gray's song, which is making rounds on social media, famously says: "you maniac!"
Green Poop
Google is the answer to everything, including why our bowel movements are the color that they are. This particular user is obviously very worried about the color of his bowels and has decided to resort to everybody's go-to guide.
He probably had some rotten veggies for dinner, or something has gone wrong in his stomach. Either way, this is another person who should probably visit a clinic and get himself checked out.
Being a Werewolf
Either somebody watched a little too much Teen Wolf, or had a really severe bodily reaction around the full moon, leading to this conclusion.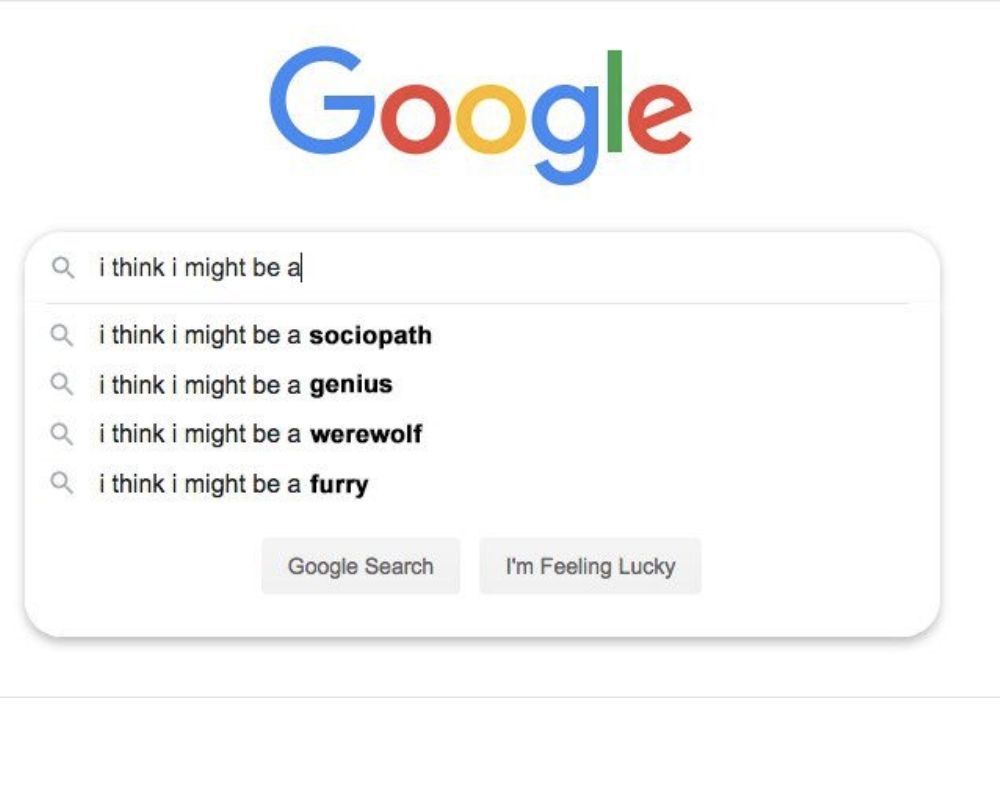 Werewolves are a popular part of literature, from fantasy to young adult. Even movies and TV shows love the trope of a boy gone furry. Hopefully, this person didn't turn into a canine come full moon, and is happily living in a wolf-free land somewhere.
Life's Deepest Questions
This sounds like a question better suited to Lorraine and Ed Warren, as it sounds like a scene straight out of a horror movie.
Probably, a person skilled with a pencil might be able to sketch something that would show what this action would look like. But our eyes are better off without having the pictures of this horror show dancing in our minds.
Why Are the Kardashians Famous?
All these questions are very valid but probably nothing hits home as hard as the question — why are the Kardashians famous? The super famous, reality star family shot to fame thanks to their lawyer patriarch, and cemented their status in the American pop world with Kim's tapes.
However, from there, the family has only gotten stronger and has now turned themselves into one we all aspire to be in. After all, who doesn't want to be managed by momager, Kris Jenner?
Googling Oneself
This suggestion borders the line between hilarious and sad, with a hint of narcissism thrown in for fun's sake. We've all Googled ourselves at one time or the other, sometimes out of curiosity, sometimes out of sheer boredom.
But do it often enough, and it's no longer just a leisurely activity. Most of the time, old, ugly Facebook pictures and a link to your Instagram account pop up.
Getting Called a Dork
Young love might be rosy and heart-warming at times — but mostly, it's a cesspool of confusion, nerves, and self-doubt. We question everything from actions to words, and we decode those later, sometimes with friends and sometimes by ourselves.
This person seems to have been called a name by their crush and is unable to figure out what it means. Being called a dork probably means she finds you cute, and it's the time for you two to split an ice cream shake.
Eating a Cat
The answer is no, not just to this one suggestion but to every one of these in the suggestion box. The cat probably committed a heinous crime or the owner is not the best.
The other two suggestions of eating a Himalayan rock salt lamp, or a SCOBY, are equally ridiculous. Somebody needs to call animal services on this one.
Could God Be an Alien?
This sounds like an attempt by conspiracy theorists to kill two birds with one stone, religion and extraterrestrial activities. Nobody else would ever wonder if God was an alien.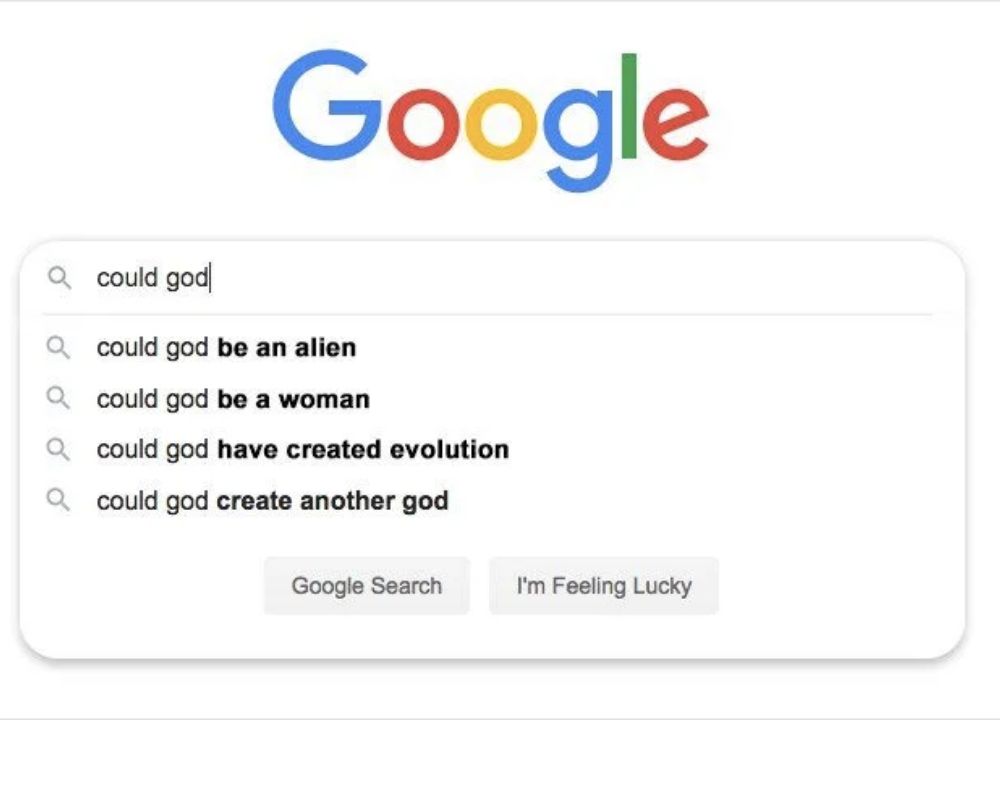 Unless you're watching a Marvel movie, and your god resembles one of the many aliens that seem to zip through their universe, we can safely assume that the debate for both of these questions is still ongoing — and nobody has seen neither god nor alien, to date.
Why Don't Spells Work?
Probably the biggest shock to every Potterhead is coming back to the real world after a Harry Potter marathon and realizing that magic doesn't actually exist. Alohomora won't open the doors, while Nox won't switch off the lights when you're already in bed.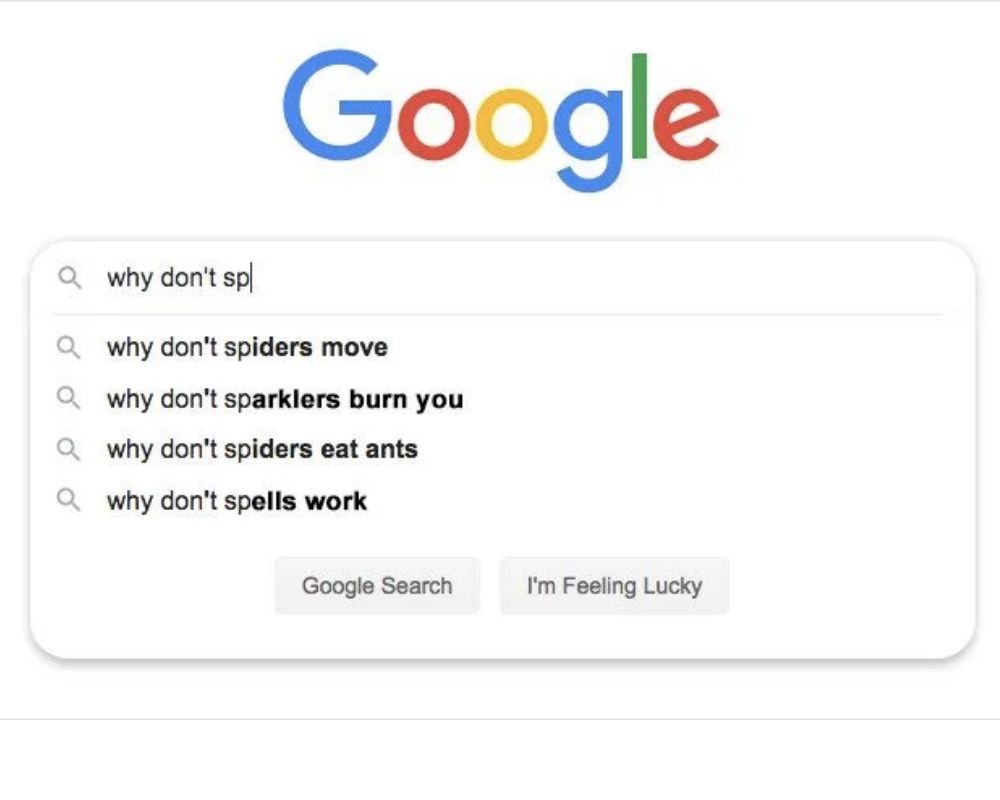 However, now both Apple and Google phones offer some inbuilt voice commands that will make you believe you're a true wizard. Like saying, 'Hey Siri, Lumos' will instantly turn on your phone flashlight. Magic!
Why Aren't There Dinosaur Ghosts?
Well, unless you're a part of the world of Casper, ghosts are very much debatable. Even after many people claim to have seen one, there's no definite proof that they exist.
But, it's worth pondering that if ghosts exist, why are there only ever human ghosts and not dinosaur ones? Just imagine hanging out in your room and then having a Tyrannosaurus rex ghost poking you for not doing your homework.
Unicorns Are Jerks
Unicorns are mythical creatures whose entire personality is based on being sweet, beautiful, and glittery. So, it's worth questioning what happened with this particular user who decided that unicorns have a side of jerkiness in them.
Maybe a white horse kicked a little girl down, and since little kids and their imaginations have no bounds, this is what she came up with as a question. The other possibility is that unicorns are real, it certainly seems like a question that's regularly asked.
Why Is There School?
This question is asked by every single child while growing up, so it's no wonder it's a part of Google suggestions. Why are there schools, after all?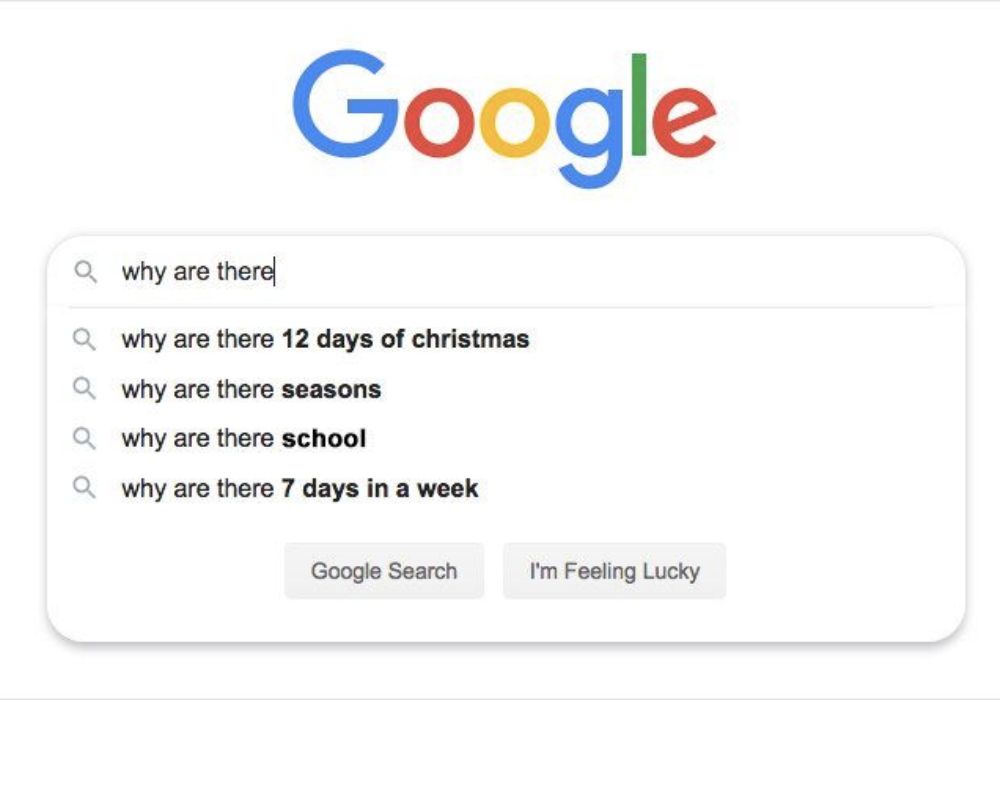 It's very possible that this search was done in the middle of the night by a student who still hadn't finished their homework. Well, if you have a sleepless night ahead of you anyway, let's start by questioning the entire reason for the homework.
How to Cut Anything
These searches are a part of the madness that was 2020 when the world was floundering and Google was the only solution that anyone had.
But, asking questions like how to cut a mango or pomegranate seems like somebody missed out on learning basic skills while they were young. At least 2020 taught people how to cut fruits, veggies, and sometimes, even their own hair.
Why Don't Girls Answer Back?
Probably because your technique is not a good one, or your opening lines are just too creepy. Either way, the reason for this user's dilemma lies within himself rather than the person in front of him.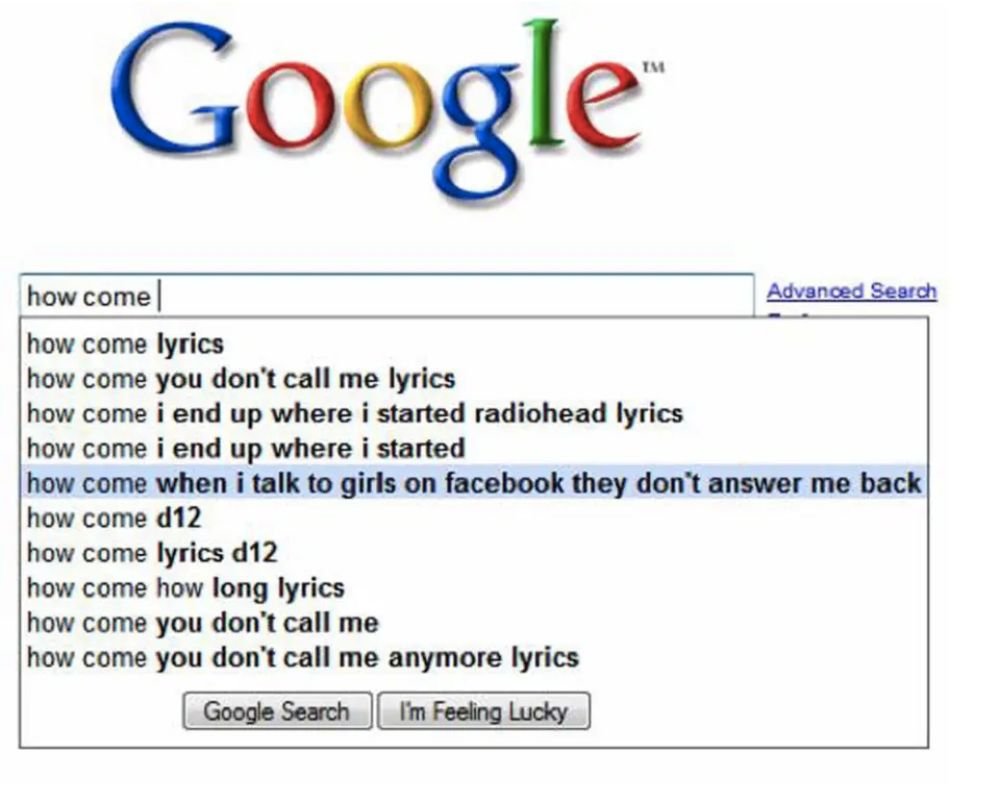 We just hope that he picked up some good ways to start a conversation from Google when he asked this question. Or even better, met somebody in the real world and didn't have to charm them with his non-existent charisma.
What Would Happen?
Well, what you'd get is the plot of a brilliant movie that we'd all love to watch. For an even more interesting story, you can pit the two Sherlocks — Benedict Cumberbatch and Robert Downey Jr. — against each other.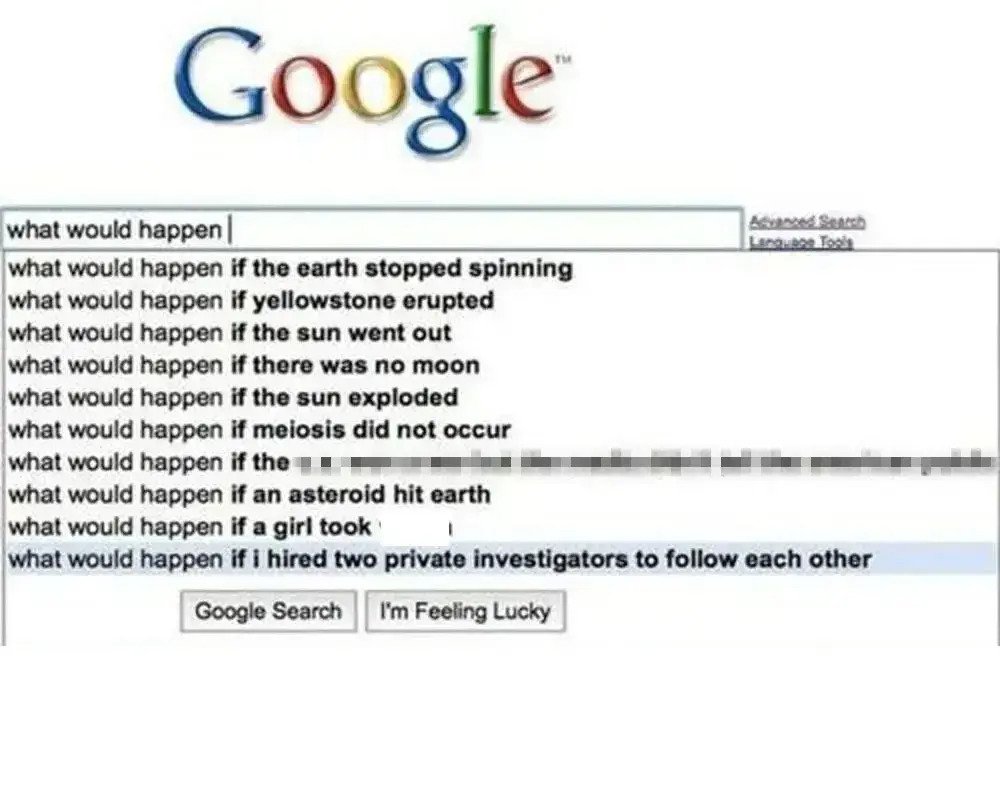 The ultimate American and British showdown! Both parties would follow each other by using their deadliest snooping techniques. We're already too excited to watch this film!
How to Make the Boss Fall in Love
Unless you're in a Mills & Boons romance novel, this type of thing doesn't happen easily. But, a bored secretary or an infatuated employee probably looked it up in an effort to further their flirting game.
Probably, the best way to get your boss to fall in love with you is to do what Ryan Reynolds did in the movie The Proposal. Become indispensable to their life and look cute while doing it!
Why Isn't 11 Pronounced Onety-One?
It was probably a child who decided if 71 was seventy-one, then 11 should definitely be called onety-one. Though we can't fight the logic, it's definitely a hilarious Google search.
Another thought is — why isn't 11 pronounced oneteen, which is a nod to 17 being pronounced seventeen. Let's just say whoever thought about these questions was definitely thinking out of the box that day.
The Meaning of Life
There are two kinds of people in the world — the ones who are looking for answers and the ones who are self-proclaimed nihilists. However, this person's query states that he belongs to the former category.
And Google doesn't have a definite answer either. So, the one produced by this search engine is a shout-out to the book The Hitchhiker's Guide to the Galaxy. Well, in this case, a fictional answer is better than no answer.
Strawberry Fields
Well, that's an answer only Google can give as to what the strawberries are doing there. Maybe it's a new name for an Android update — from Android marshmallow to android strawberry.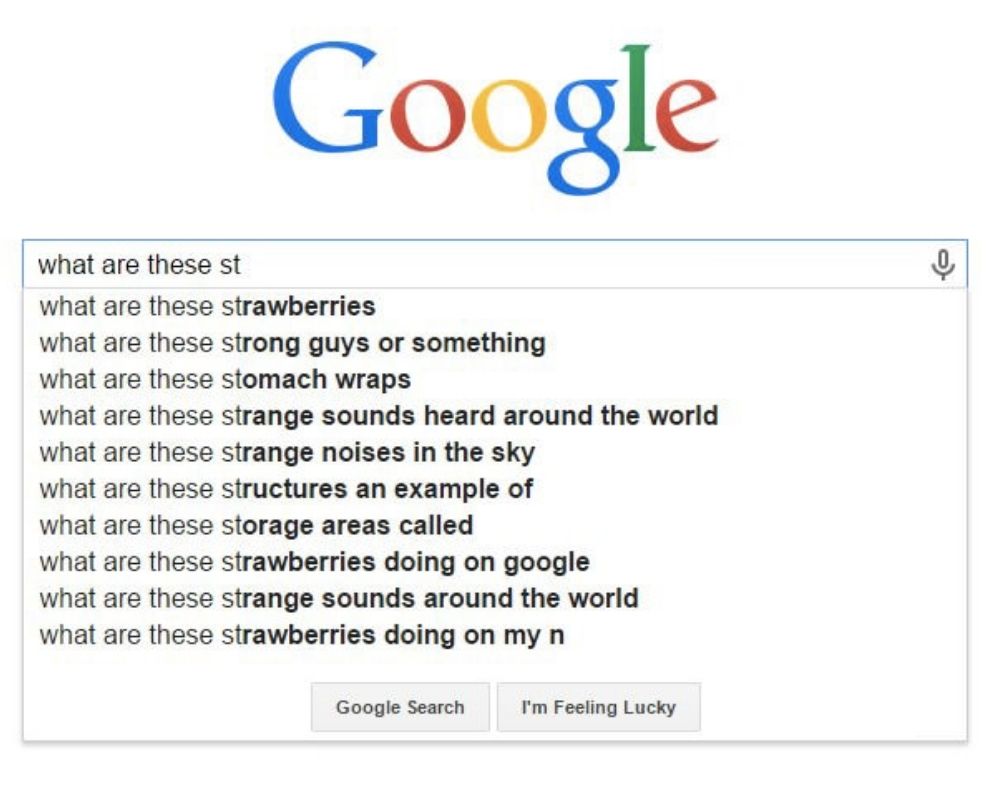 Regardless, this isn't the only question users have. There's also a popular question about what the strawberries are doing on different body parts. We think that strawberries probably belong strictly in a fruit bowl.